The Great Connector
HKTDC International ICT Expo is an unmissable event, with its winning combination of quality exhibitors and excellent networking forum. The 2009 event attracted over 560 exhibitors from 16 countries and regions showing the best in the business of information and communications technology.



Quick Connections
To help you locate the right products and services efficiently, the fair is split into the following convenient product and service zones:
Enterprise Solutions
Computer & Peripherals
Telecom, Networking & Wireless Technologies
IT Outsourcing

Digitainment & Multimedia
E-Logistics & Retail Technologies
Home-grown Innovations
Trade Related Services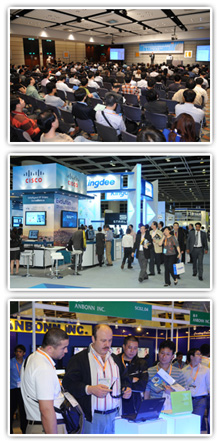 Information Exchange
It¡¦s vital to keep up-to-date with the latest business and technical trends, especially in such a dynamic and fast-paced sector as ICT. This is why the Expo includes a series of specially selected seminars, presented by industry experts, to help you keep speed on the matters that count.



Help at Hand
A popular attraction at the Expo is the SME IT Clinic ¡V It is a special free-of-charge service which offers SMEs one-to-one professional consultations on ICT systems and solutions that can help them improve their business efficiency.



Sourcing Synergy
Extend your business opportunities with a visit to the concurrent HKTDC Hong Kong Electronics Fair 2010 (Spring Edition) and HKTDC Hong Kong International Lighting Fair 2010 (Spring Edition), also taking place in the convenient downtown location of the Hong Kong Convention and Exhibition Centre.



Today's Action
Pre-register before 22 March 2010 for buyers from outside Hong Kong and 8 April 2010 for local buyers ¡V to receive a FREE admission badge by mail.



Exclusive Travel Incentives for Trade Buyers
The HKTDC offers a variety of incentive programmes for trade buyers to the Fair that involves exclusively discounted hotel rates and airfares. For further information, please contact HKTDC office nearest to you.



Special Airfare
Cathay Pacific Airways, together with sister airline Dragonair, offer you and your travel companions exclusive airfares in all classes. To take advantage of this offer, please click http://events.cathaypacific.com and input the event access code MICE062 to avail of special fares for you.



Sourcing On the Go - Tailor-made Exhibition Info On Your Mobile
Smartphone Info Site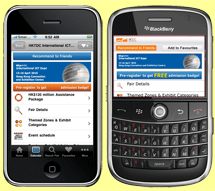 With the HKTDC Smartphone Info Site, you can now pre-register for fairs and get your free admission badge anywhere and anytime. All information regarding HKTDC fairs, including event schedule, list of exhibitors, plus practical tips on getting around Hong Kong can be conveniently accessed.


Mobile Info Site
Information of 30 fairs is now available at the HKTDC Mobile Info Site - hktdc.com/wap/en. Browse it and use it to get free admission badge.
Do you need a visa to enter Hong Kong?
Please click here to find out the requirements and guidelines laid down by the Immigration Department of the Hong Kong Special Administrative Region. Should you require an invitation letter from the HKTDC, please send your request to us at least two months (eight weeks) before the fair begins.



hktdc.com Free Sourcing Service

Now you can locate the right products you need by getting a list of relevant exhibitors with booth numbers and product photos at the fair. Look for this friendly sign.



Enquiry Contact
| | |
| --- | --- |
| Customer Service Line | (852) 1830 668 |
| Ms Regin Lau | (852) 2240 4448 |
| Ms Katherine Miu | (852) 2240 4554 |


Rebecca Tse
Manager, Marketing Communications
Exhibitions Department